Patrick Star
First Appearance
Help Wanted
Age
Unknown
Status
Alive
Last Appearance
It came from Goo Lagoon
Actor
Bill Fagerbakke
Gender
Male
Species
Starfish
Alignment
Good
History                                             Edit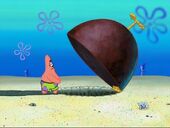 Patrick lives under a rock at 120 Conch Street and has two neighbors.(Spongebob and Squidward) Patrick has also been working at the Krusty Krab sometimes to either help Spongebob or Mr. Krabs hired him and sometimes has been working for the Chum Bucket.
Even though he is almost the dumbest starfish in Bikini Bottom, Patrick passed Middle School, Boating School, and Community College! Patrick also won the Doing nothing award, dance club award, and Wrestling Champions awards.
Relationships                             Edit
Sam Star- Sister
Herb Star- Father
Margie Star- Mother
Ed Star- Cousin
Gary- Cousin
Primitive Star- Ancestor                                                 
Spongebob- Best Friend
Yorick- Great Grandpa
Billy Bob Star- Grandfather
Maw Tucket-  Grandmother
Princess Tulsa- Great Grandmother
King Amoeba- Great Great Grandfather
Queen Mildew- Great Great Grandmother
Patar- Ancestor
Pecos Patrick- Ancestor
Patron- Descendant
Raarg- Friend
Squidward- Friend
Mr. Krabs- Friend
Sandy- Friend
Plankton- Frenemy
Mrs. Puff- Friend
Larry the Lobster- Friend
Mermaid Man- Fan
Barnacle Boy- Fan
Pearl- Friend
Mindy- Love Interest
King Neptune- Friend
Flying Dutchman- Friend
Wormy- Friend
Flats- Community College Friend
Jeffrey the Jellyfish- Dismay
Squilliam- Friend
Others- Friend
Gallery                                                     Edit
Ad blocker interference detected!
Wikia is a free-to-use site that makes money from advertising. We have a modified experience for viewers using ad blockers

Wikia is not accessible if you've made further modifications. Remove the custom ad blocker rule(s) and the page will load as expected.